Why need the small local EMS system?
Since the wireless data transmission technology has fast growing in recent years which makes the possibility of the cheap and reliable data transmission provide by the web serve operator comes true. In this regard, many of the Cloud base power management software or energy management software were launched in the power distribution industry. With comprehensive software design and mature communication and data acquisition devices deployment, Cloud based PMS can dramatically improve the management efficiency and reduce human operation and maintenance costs in a long term prospect for those multi project management activities. Meanwhile, a large number of small and medium-sized enterprises and business entities may not have as much multi project management demand, and those enterprises may not be able to afford the cost of devices deployment and server installation. For those projects scale is small with less monitoring devices, and short distances, what other options can they have besides cloud based power monitoring systems? Is it possible to have an on-site rather than Cloud based power monitoring system that can be developed based on the existed software, communication, and other technologies to improve the safety, reliability, and stability of power transformation and distribution system operation. Is there a management software can meet the all-need monitoring of the environment of 35kV and below voltage level power transformation and distribution systems, accelerated the digitalize and information internal sharing of the energy consuming enterprises, reduce operating manpower costs, improve production efficiency, speed up the response to abnormalities in the process of power transformation and distribution, and enhance the power supply and distribution service guarantee capability? Sfere Electric heard the voice from the market and its R&D team has brought SFERE3000 power monitoring software, providing a cost-effective small power monitoring and operation system for the industry.
Where the On-site PMS goes for?
- For short distance
The distance data transmission is not far. The physical distance between the power distribution room and the monitoring center is within 2kms. Communication deployment can achieve data transmission through LAN cables or fiber-optical.
- For small project
The scale of the projects are small which running industrial processing, mining ,transportation, hospitals, schools, and commercial centers enterprises. The capacity of transformers in electricity consuming enterprises and the and for voltage level is below 35KV for the new build or renew purpose for the expansion of power transformation and distribution systems.
- For energy consumption management
The requirements for power monitoring are mainly aimed at the consumption and management of energy, including specific recording and export of energy consumption reports.Further more, the software could make trend analysis of energy consumption and do the event recording and alarm.
Device deployment of the EMS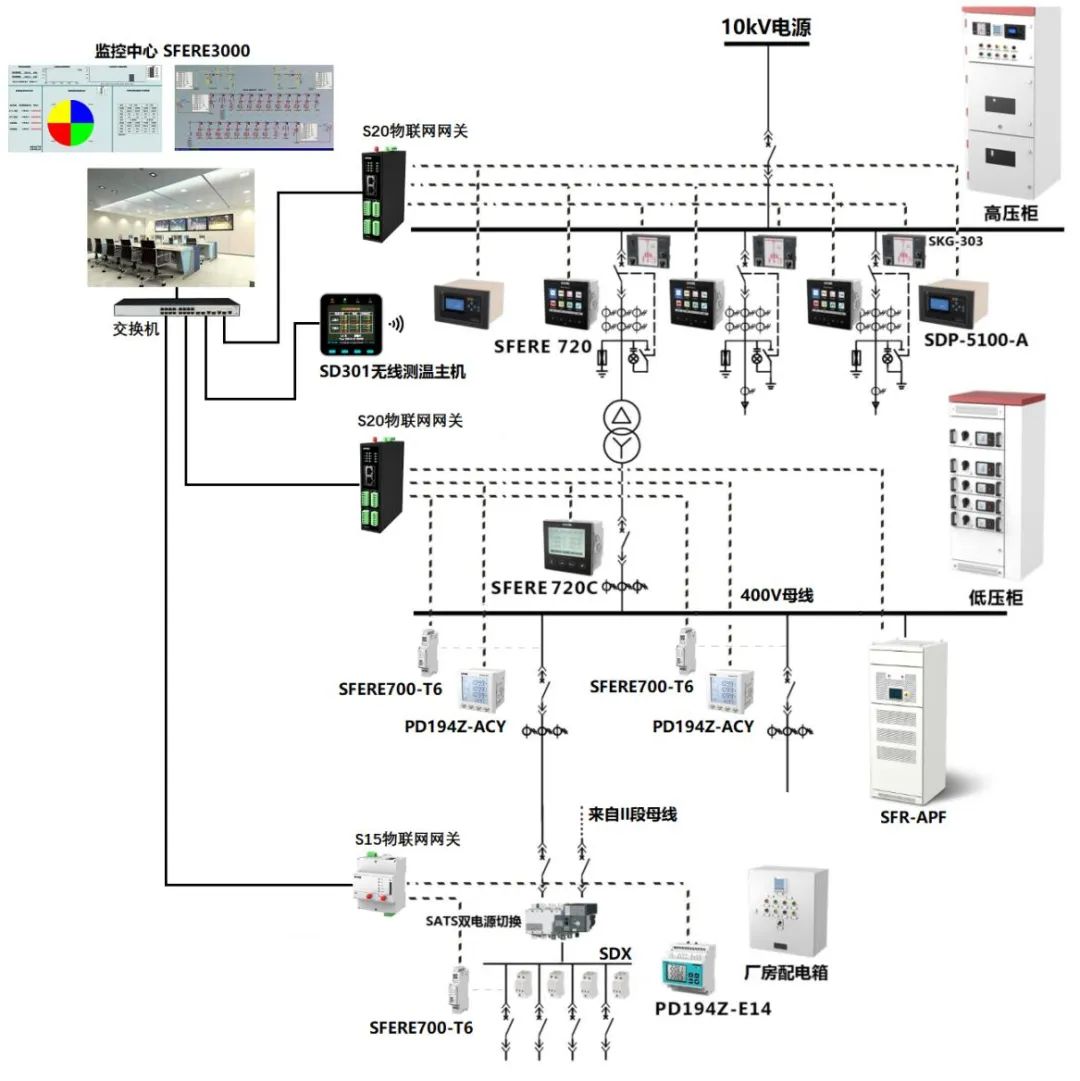 As can be seen from the equipment deployment of the SFERE3000 energy monitoring system in above. The SFERE3000 EMS can monitor the operation status and equipment of various levels of high voltage, low voltage, and terminal distribution systems in real time. Providing various of power and ambient monitoring, power consumption analysis, power consumption reports, abnormal alarms and records, remote control, etc. As far as the structure is concerned, the system can be divided into three layers: Data acquisition layer, Data transmission layer, Data management layer.
Data acquisition layer:Various monitoring hosts, protection devices, measuring instruments, sensors which installed on site to achieve independent real monitoring and data transmission.
Data transmission layer:gateways,communication concentrator, and other network devices achieve unified data acquisition, fault tolerance, calculation, forwarding, and network transmission .
Data management layer:systematic workstation, monitoring software etc; HMI for various data monitoring, storage, processing, and alarm purpose.
What about the functionality of SFERE 3000?

Real time measuring
Display the main electrical parameters, energy consumption statistics, switch status, and other information that users are concerned about at each site of the project at the monitoring or control center.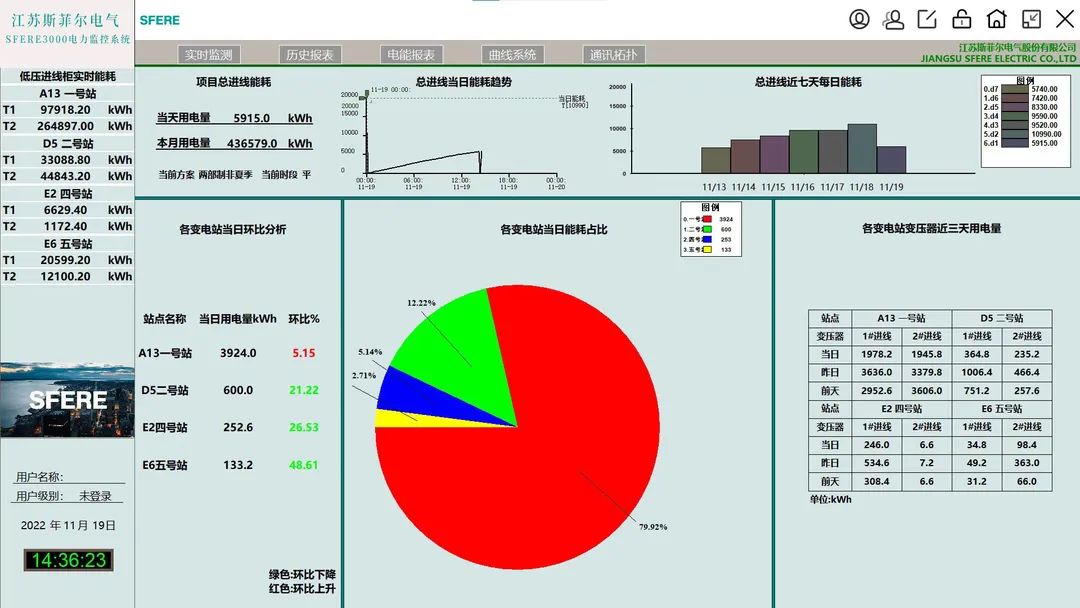 Systematic drawing display
Display various main electrical parameters and switch status information of the system operation through a system diagram interface, and respond to various limit exceeding alarms and status change alarms.
Display various electrical parameters, switches on/off status of the power system along with the primary systematic drawing.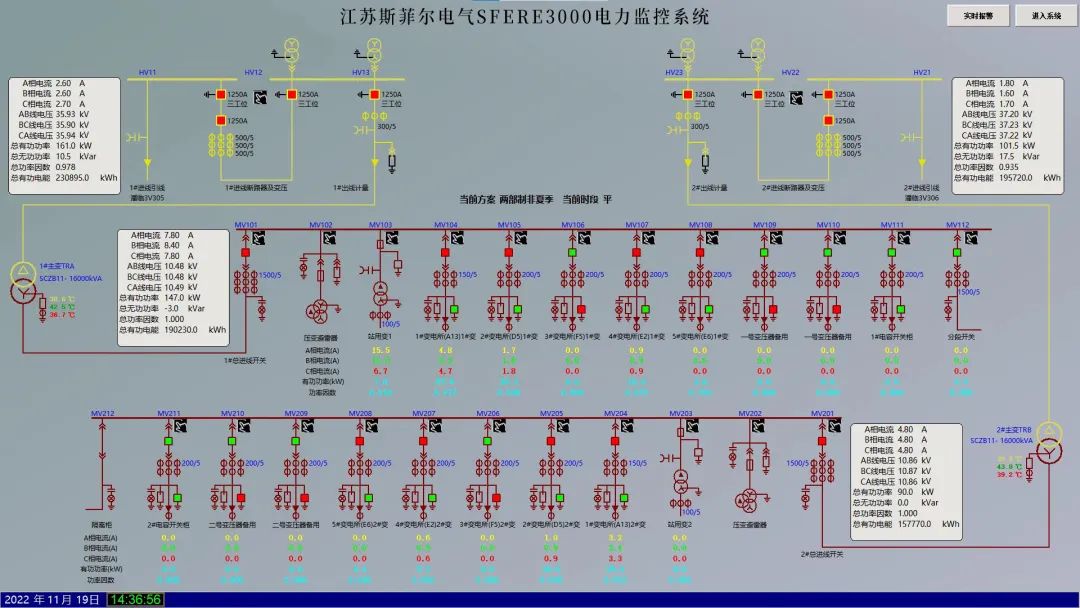 Energy consumption report

Query, print, and export the real-time and historical energy operation data, as well as energy consumption statistics data within any historical time period.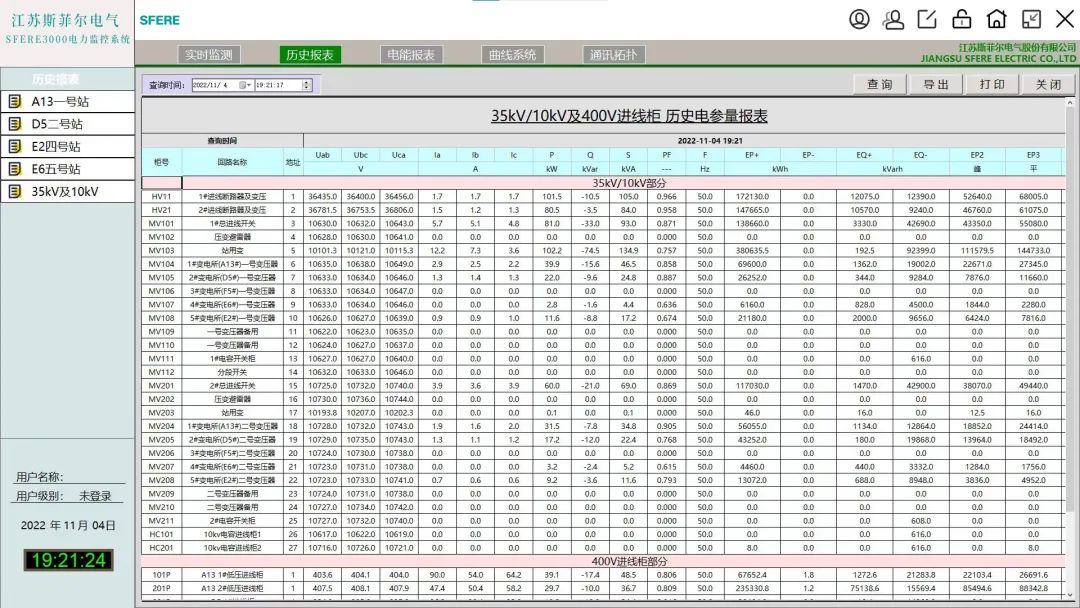 Trend analysis
Create curve accordance with the various parameters during the equipment operation to analyze the reliability of the equipment operation over a certain period.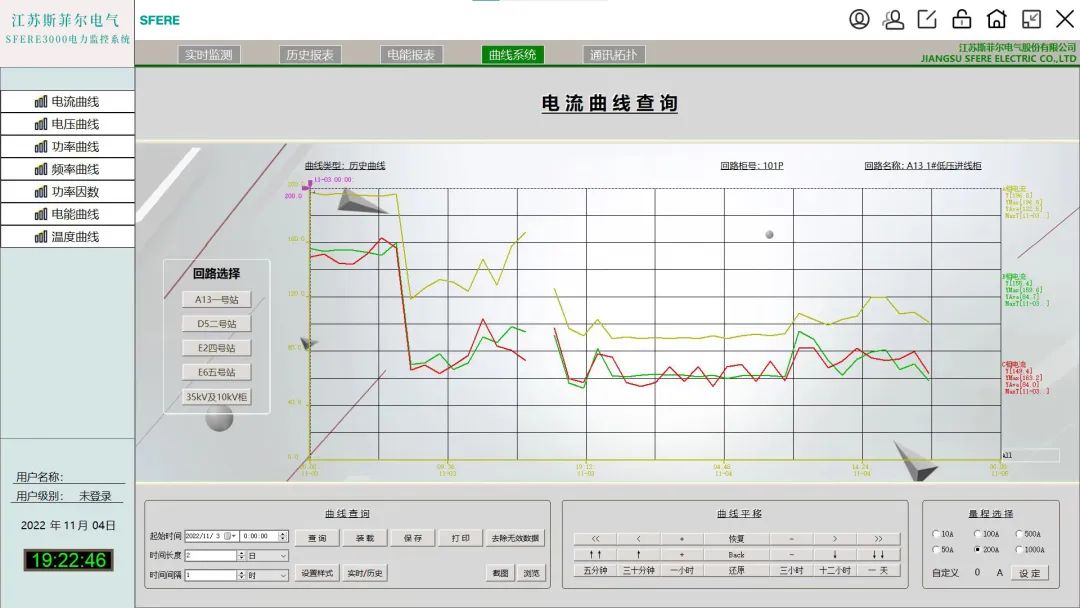 Alarm and notification
Support parameter settings for remote measurement threshold crossing and remote signal switch displacement, and achieve real-time alram information push and record query.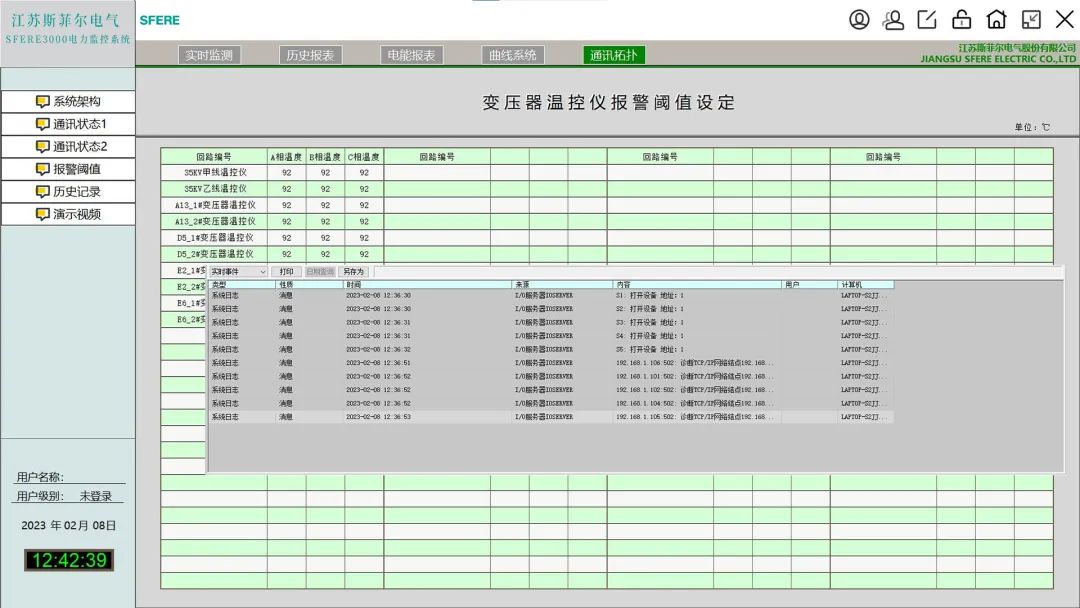 Data forwarding
Supports forwarding data to third-party management systems and platforms by LAN or RS485 interfaces and supports standard protocols such as Modbus RTU/TCP, IEC104, MQTT, OPC, etc.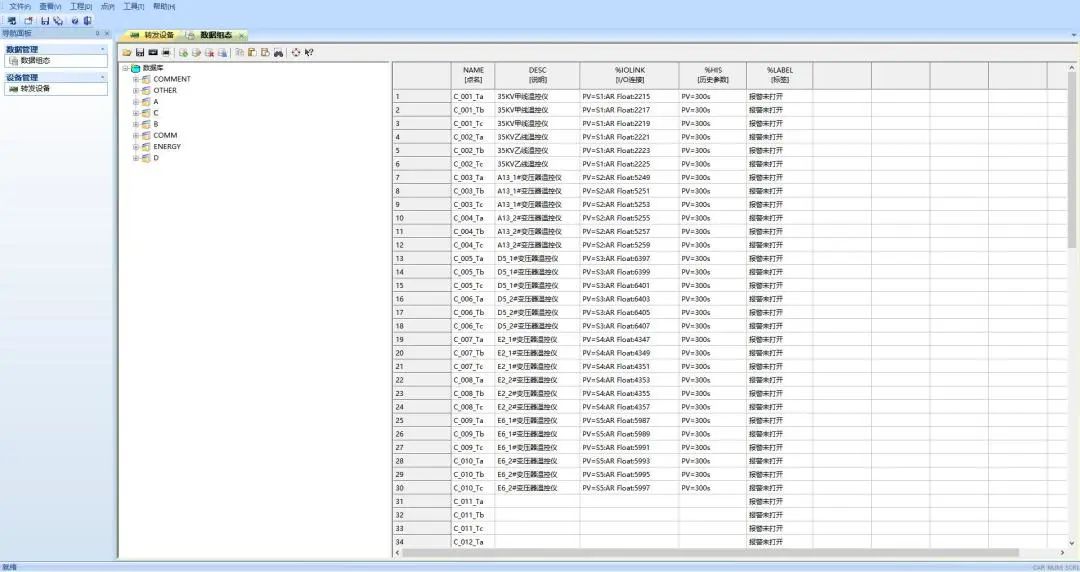 Configuration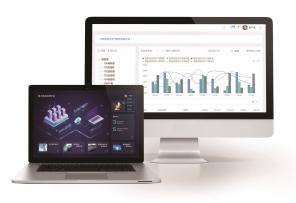 - By providing comprehensive and real-time monitoring, historical report query, trend curve analysis, alarm threshold setting, alarm notification query, data forwarding and other functions for the distribution room, distribution circuit, and distribution equipment, the safety, reliability, and intelligence level of the power transformation and distribution system are significantly improved.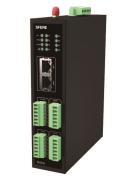 - Multi-channel data collection, multi-protocol conversion, data analysis and calculation, automatic logic control, multi-platform connection, WEB flexible configuration.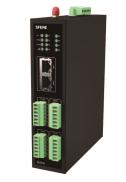 - Add one 4G wireless channel based on the S20C8.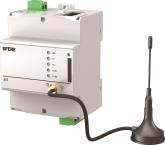 - Collect data of intelligent measurement and control, power quality and electrical safety products, communicate with the monitoring system via Ethernet port on the uplink, and upload to the cloud platform via 2G, 4G and NB loT wireless modes. Downlink wired/wireless networking through RS485 or LoRa.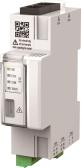 - Collect data of intelligent measurement and control, power quality, electrical safety products, realize Modbus-RTU or DL/T645 communication through RS485 for the down side, and realize Modbus-TCP communication with the local monitoring system through Ethernet port for the up side.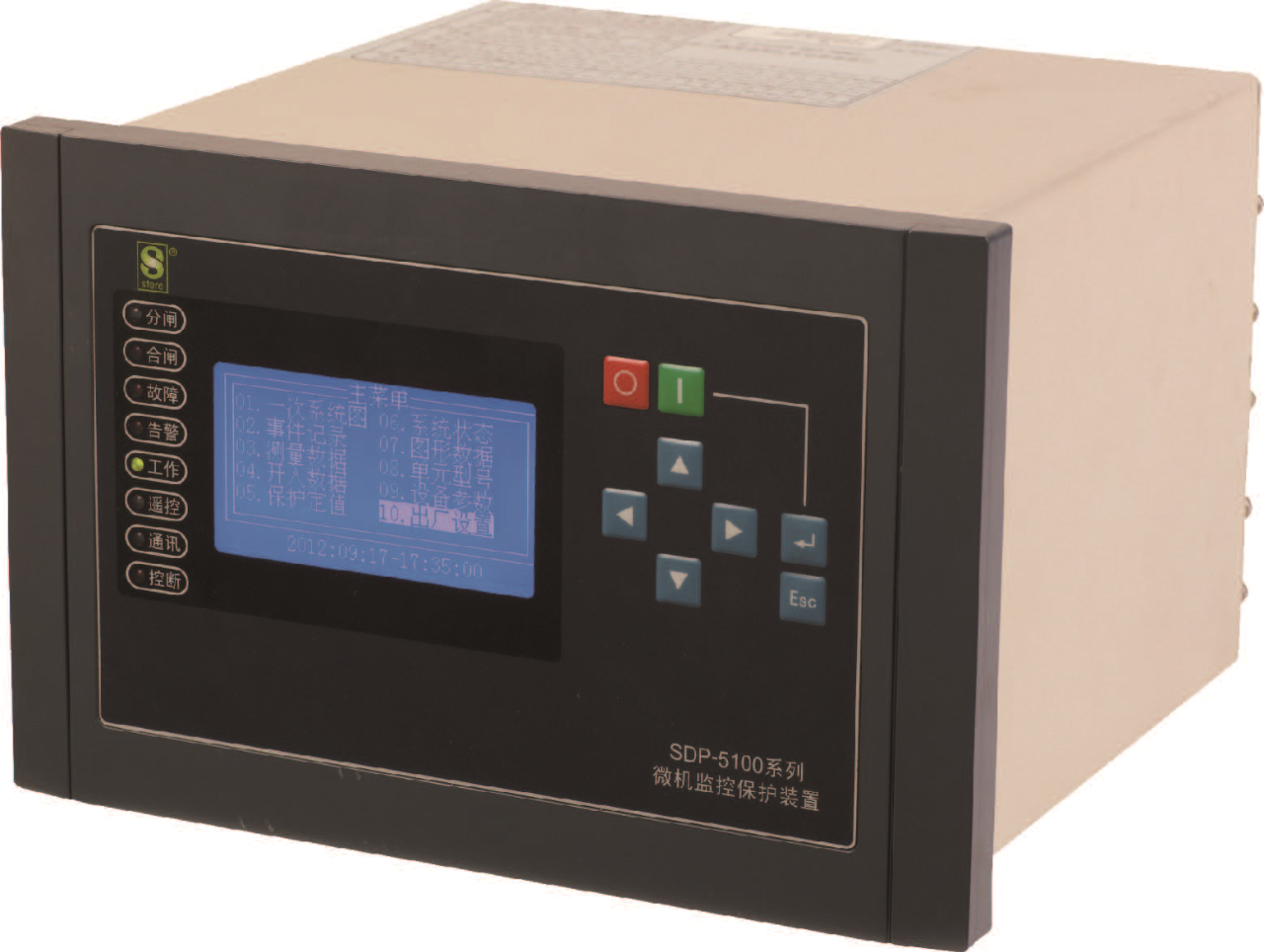 - It has powerful functional integration: integrating multiple functions such as protection, measurement, control, monitoring, communication, fault recording, event recording, etc. High precision measurement of current, voltage, power, power factor, frequency, zero sequence current, zero sequence voltage, and calculation of electrical degree; Online recording of 256 events, which are not lost after power failure.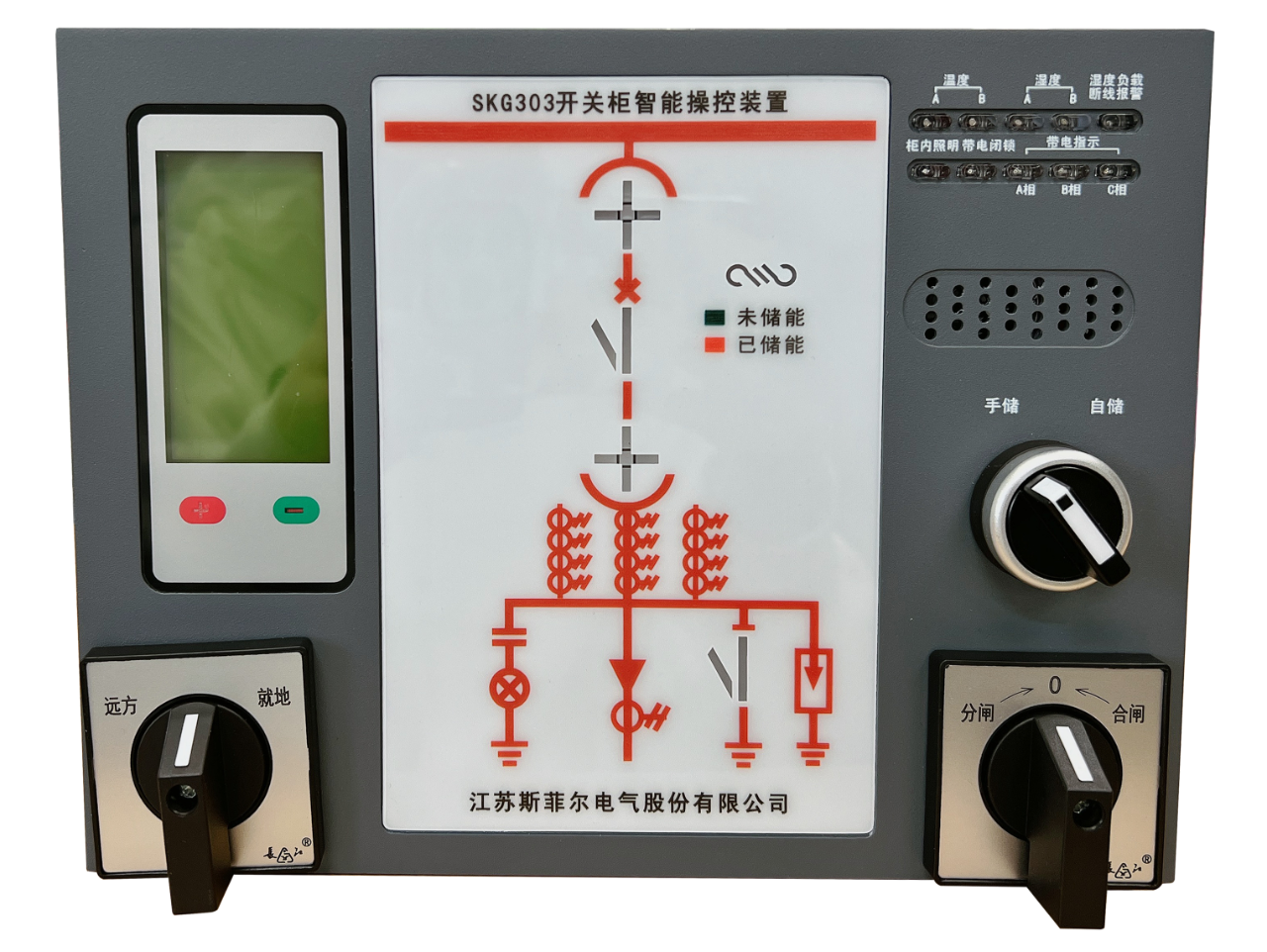 - It has functions such as dynamic simulation diagram, live display and locking, temperature and humidity control, circuit breaker opening and closing status indication, energy storage indication, grounding switch status indication, car position indication, human induction live prompt and cabinet lighting, voice error prevention prompt, remote/local operation, bus/contact temperature measurement, remote communication, etc. Measurement of three-phase current, three-phase voltage, active, reactive, power factor and other parameters, as well as electrical energy metering functions.

- Capable of precise power parameter measurement, comprehensive power metering, and power quality analysis; It is equipped with abundant I/O modules for condition monitoring and control of on-site equipment, which can be easily integrated with various intelligent distribution systems and energy management systems, and share abundant monitoring data and power quality data.

- Large color screen centralized acquisition host, embedded/wall mounted installation, color LCD display, built-in wireless receiving module, 200 event records, alarm output, RS485 communication.


- Temperature sensor for temperature measurement.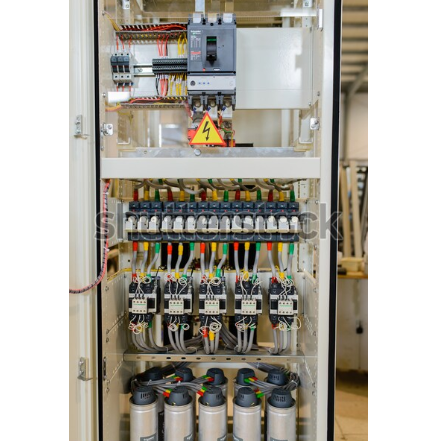 - Full modular design, flexible combination; At the same time, the intelligent monitoring module can automatically adjust the output ratio of passive module according to the dynamic requirements of the system, and meet the requirements of supplementary. Switching mode adopts dynamic output, smooth and stable, neither filling nor underfilling. The external monitoring unit can comprehensively monitor the real-time status of the capacitor, avoid the capacitor "working with disease" and extend the service life.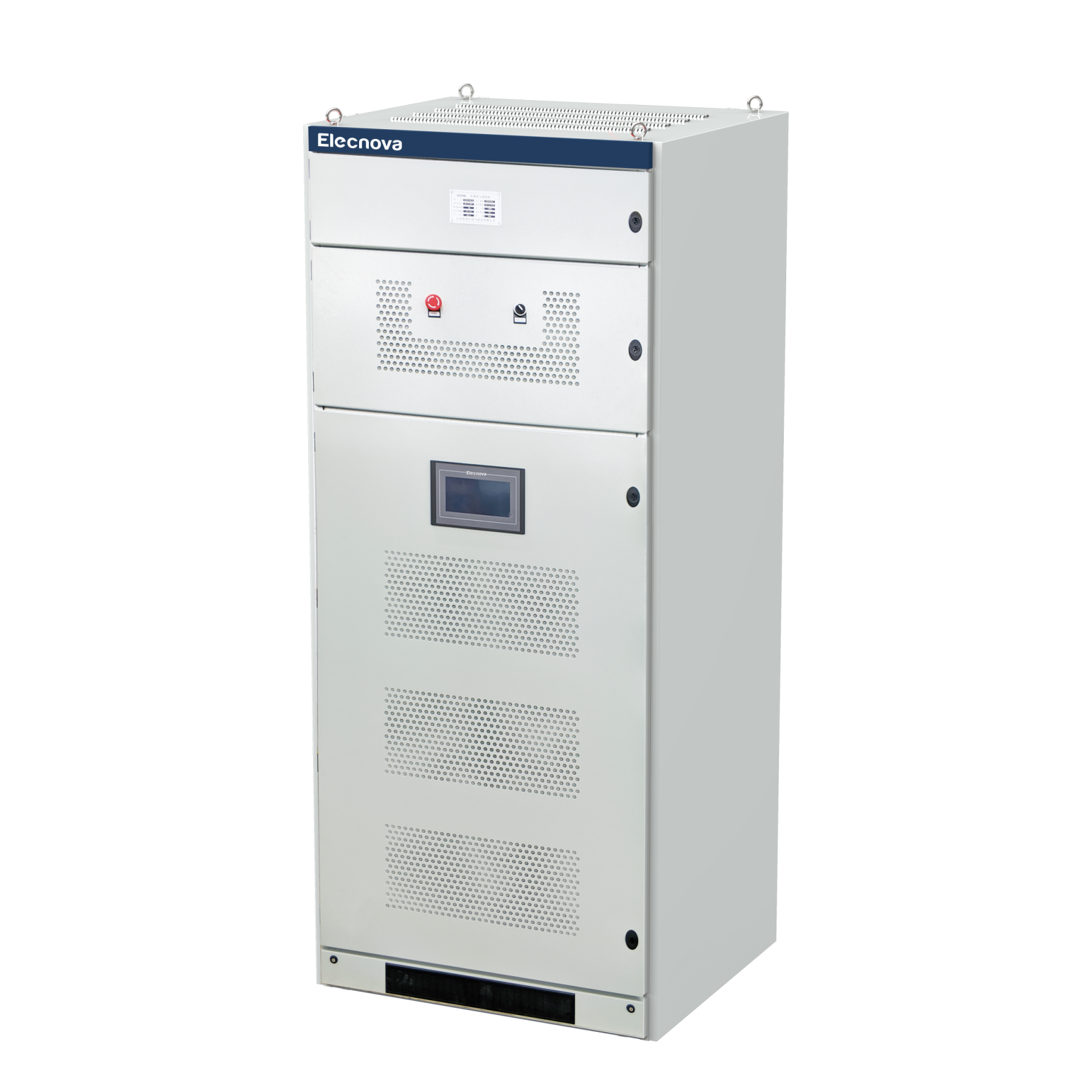 - Faster response time, full response time ≤ 10ms, dynamic continuous smooth compensation, and high-speed response speed, which has good dynamic compensation effects; Adopting a fully interactive 7-inch touch LCD and supporting backend monitoring software to meet the different needs of users.
- Harmonic compensation, reactive power compensation, and harmonic reactive power compensation, with multiple uses for one machine;
Equipped with harmonic fractional compensation function, capable of setting reactive power compensation ratio;
Hd 7 inch color touch screen, with real-time display of system and device operating parameters on the screen; Response speed: ≤ 5ms; Can filter out 2-51st harmonics; And support backend monitoring software to meet the different needs of users.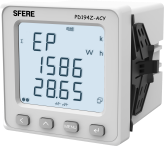 - Equipped with functions such as full power parameter measurement, energy metering, and power quality monitoring, with RS485 communication interface, supporting Modbus RTU and DL/T645 communication protocols, and can be connected to various power monitoring systems and energy management systems.


- Din rail mounted, capable of measuring 4-circuits three-phase or 12-circuits single-phase power parameters, optional switch module for switch status detection, limit exceeding alarm, and 4G communication module.


- Capable of precise power parameter measurement, comprehensive power metering, and power quality analysis; It is equipped with abundant I/O modules for status monitoring and control of field equipment, which can be easily integrated with various intelligent distribution systems and energy management systems, and share abundant monitoring data and power quality data. Dot matrix LCD.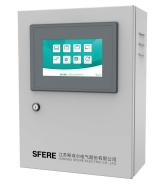 - Integrate HMI, switching power supply, intelligent gateway, Lora module, etc; Wall-mounted on-site centralized display.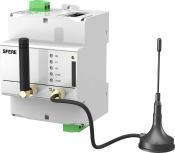 - 1 uplink Ethernet interface; 1 uplink WIFI interface (optional); 1 uplink 4G interface (optional); 2 Downlink RS485 interfaces, capable of connecting 64 temperature measurement modules; 1 downlink LoRa interface (optional); Embedded web server.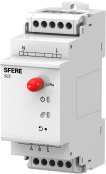 - LoRa and RS485 transparent transmission, LoRa transmission power 1W.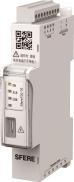 - 6 temperature measurements; Temperature measurement range -20~150 ° C, accuracy ± 1 ° C; Real time, average, interval temperature, temperature rise rate; Temperature limit exceeding warning and alarm SOE.


- Temperature sensor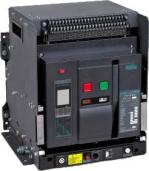 - The universal circuit breaker is suitable for distribution networks with AC 50Hz, rated voltage of 690V and below, and rated current of 200A-6300A. It is used to distribute electrical energy and protect lines and power equipment from overload, undervoltage, short circuit, single-phase grounding and other faults. It has intelligent protection function, precise selective protection, can improve power supply reliability, and avoid unnecessary power outages. Equipped with an open communication interface, it can perform "four avoidance" to meet the requirements of the control center and automation system, with isolation function.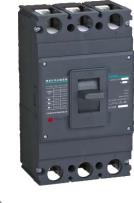 - Plastic case type circuit breaker is suitable for AC 50/60HZ, rated insulation voltage to 1000V, rated working voltage 415/690V, rated working current to 800A circuit for infrequent conversion and motor infrequent starting (lnms400A and below). Equipped with overload and short circuit protection functions, it can protect the circuit and power equipment from damage. Small size, high breaking capacity, short flashover, and anti vibration. Can be installed vertically (i.e. vertically) or horizontally.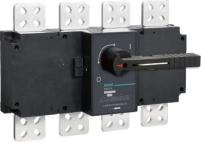 - The isolation switch is suitable for circuits with AC 50Hz, rated voltage 400V and below, and rated current 16A-1600A. Used for infrequent manual connection and disconnection of circuits, 690V products are only used for electrical isolation.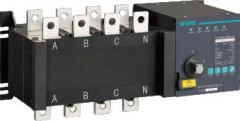 - SFP1 series ATSE consists of two parts: the switch body and conversion control. The switch is driven by a motor and electromagnetic coil, with fast conversion speed. The power supply for the conversion controller is commonly used, and the backup power supply is AC220V as the working voltage.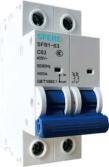 - Mini-circuit breakers are suitable for places with AC 50Hz or 60Hz, rated voltage of 400V and below, and rated current of 6A-63A. Mainly used for overload and short circuit protection of lighting, distribution lines, and equipment in office buildings, residential buildings, and similar buildings. It can also be used for infrequent line switching under normal circumstances.

- Intelligent miniature circuit breaker is a new type of IoT circuit breaker, suitable for AC 230V/400V, 50HZ distribution networks. Mainly used to link the load at the end of the line, to connect and disconnect the line, and to avoid injuries and losses caused by safety hazards such as overvoltage, undervoltage, overload, leakage, and overheating of operating equipment. This product integrates multiple functions such as remote control, data measurement monitoring, and security status monitoring. It is a multifunctional IoT product that achieves intelligent power management and control of application environments such as homes, buildings, public treasures, streetlights, and municipal engineering.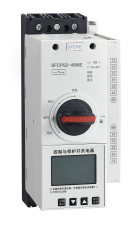 - The control and protection switchgear adopts a modular single structure, integrating the comprehensive functions of circuit breaker (fuse), contactor, overload (overcurrent) protector, overvoltage/undervoltage, phase loss protector, voltmeter, ammeter, residual current protection, isolator and other electrical elements. Application of MCU digital processing technology, high measurement accuracy, good linearity, accurate and reliable fault resolution, and strong anti-interference ability.