Brief introduction

Direct current(DC) meters have had a comparatively low proportion in the use of power measuring instruments due to their unique usage scenarios. In recent years, the rise of the renewable energy industry such as PV solar power plant and wind power plant, communication iron tower for base station, and the booming energy storage industry drives a tremendous demand for DC multifunctional power meters. In this article you could find the general introduction about the application of ELECNOVA PD195Z-E31/E33 DC power meter.
PD195Z-E31 is available for a single DC circuit measuring, provides U/I/P/kWh, demand and extreme value, PD195Z-E33 maximum measuring and monitoring 21 DC circuits U/I/P, TOU(Multi-tariff) and kWh(energy consumption). By connecting with the EK1 external D/I module, the PD195Z-E31 can achieve the digital input and relay output functions. It also equipped with a RS485 communication interface for the data integration and with the power management system and energy management system.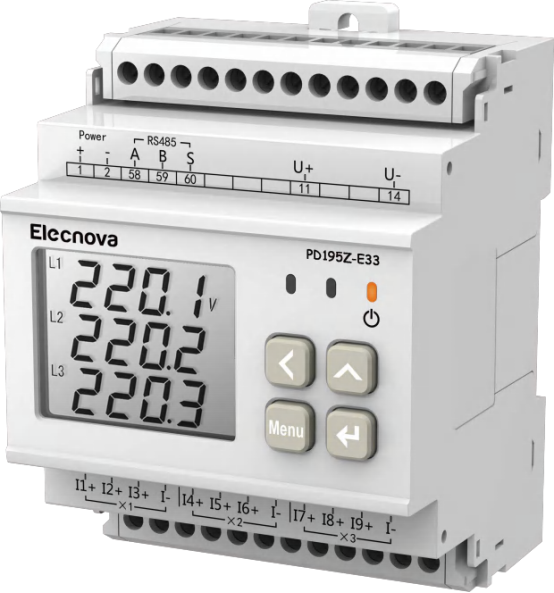 Advantages
Multiple current sensing
Multi tariff (TOU)
Plenty external module(LORA、DI/DO、NB-IoT)
External module Plug-in installation & auto-ID
Model Selection

Typical Wiring

Installation

Application
Communication Iron Tower base station
Solar PV power plant
Power storage system

https://www.sfere-elec.net/product/PD195Z-E33-DC-multi-circuit-power-meter-66.html
About Elecnova/Sfere Electric
Elecnova/Sfere Electric a leading manufacturer and solution provider of Power quality analyzer/Energy analyzer/kWh energy meter/Multi circuit power monitoring system/EV charger metering/Digital power meter/Motor controller/Busway temperature sensor/Harmonic Filter/Power factor correction/Low Voltage power distribution panel/Cloud view Power monitoring system.