The main task of building an energy management center is to monitor, record, analyze, and guide the data on the energy and resource consumption of enterprises, such as electricity, raw coal, natural gas, oil, water, and the use process of steam and heat energy converted from energy processing. Through monitoring data analysis, it can help enterprises conduct real-time assessments of major energy consuming equipment, further optimize usage conditions, reduce unit energy consumption costs, equipment maintenance costs, make rational use of energy, and improve the comprehensive competitiveness of enterprises.

System composition
Devices and users can connect to our industrial energy intelligent management platform through the Internet. Users can create different projects online, and the projects run on the same platform. However, the interface and data are distinguished by account/project ID, providing a dedicated system experience. Alternatively, install the complete platform into a server cluster in a self-built monitoring center, or a server cluster rented from a public data center.
The system platform supports various networking solutions such as fieldbus, Ethernet, and wireless 4G networks. The whole system is divided into four parts: on-site measurement and control energy meters, network communication equipment, cloud computing processing center, and business processing terminal.
Cloud computing center is the core of the whole platform, including collection server, database server and Web display server. Flexible deployment modes can be deployed in the public cloud, private cloud, or on a local server.
The business processing terminal is the operating client of the platform, which can be accessed through the Internet network or local area network through web access. It supports mobile app access and enables anytime, anywhere office work.
Network communication equipment, including communication management machines, switches, etc., is responsible for on-site data collection, data caching, and active data upload, supporting local area networks, public networks, 4G wireless networks, and GPRS wireless transmission methods.
On-site measurement and control meters, various measuring meters installed in the distribution cabinet and distribution box. According to the nature of the project, multifunctional meters of different sizes and installation methods can be selected:
One type is a newly built industrial project, which can be designed with panel mounted meters such as SFERE720 and PD19 series, equipped with RS485 communication interface, on-site networking communication, and data upload function.
The other type is renovation industrial projects, which are relatively old and require intelligent transformation of instruments to provide RS485 communication interface for metering meters and achieve networking functions. After design, the PD194Z-E series can be used in various intelligent devices, achieving convenient installation and improving its economy.
Application occasions
High voltage circuit
SFERE720
The SFERE720 multifunctional power meter can measure the full electrical parameters of the power load, and its comprehensive power metering and power quality analysis functions are suitable for various power monitoring systems. The product offers multiple language displays, featuring a large color screen, touch buttons, and modular design, making functional configuration and operation more convenient.
Low voltage distribution room
PD194Z-9CY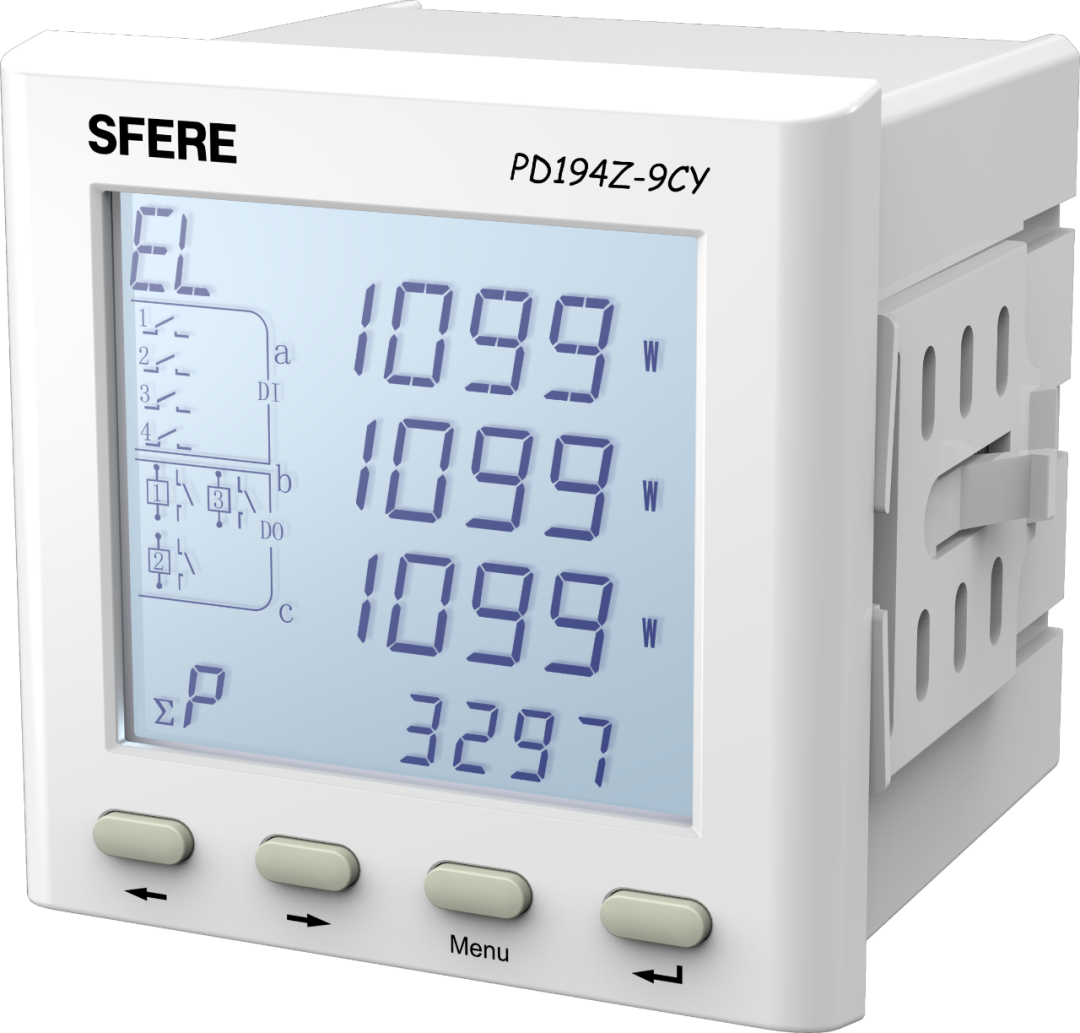 The PD194Z-9CY multifunctional power meter can monitor various electrical parameters, such as voltage, current, frequency, power, power factor, electrical energy, demand, etc. It also has functions such as switch status monitoring, limit exceeding alarm, analog output, electrical energy pulse, and communication. As an advanced intelligent and digital front-end acquisition component for power grids, this meter can be applied in energy management systems, distribution automation, intelligent buildings, and intelligent switchgear; With multiple wiring methods, it is easy to use and can meet various on-site requirements.
PD194Z-E14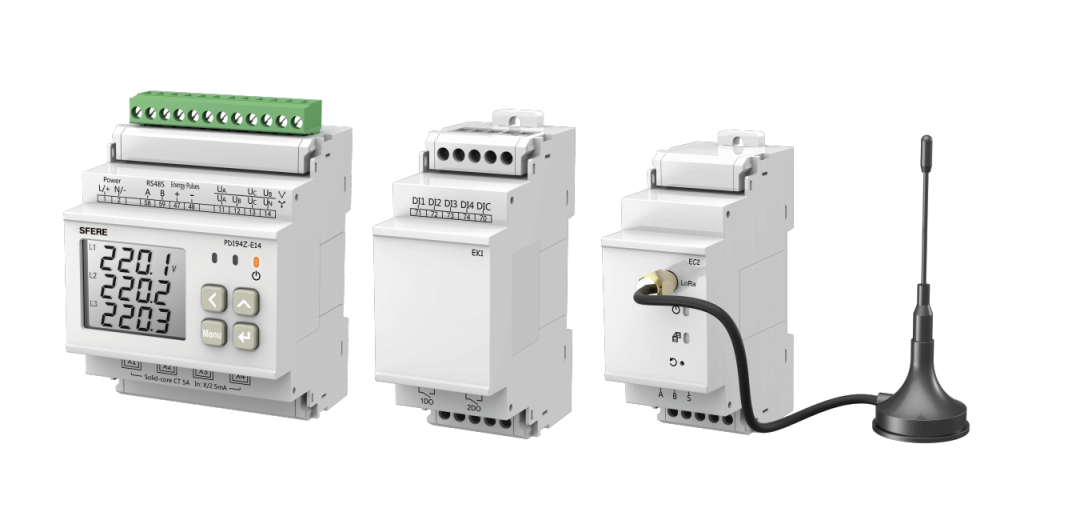 The PD194Z-E14 intelligent multi-circuit measurement and control meter series products can achieve real-time monitoring of power parameters in distribution systems, supporting the measurement of voltage, current, electrical energy and other electrical parameters of 4 AC three-phase circuits or 12 AC single-phase circuits. The product is installed in a din rail style and supports optional expansion function modules. The SC series wireless communication module supports transparent transmission methods such as LoRa, NB-loT, 4G, and RS485. The LoRa communication gateway uses serial ports for data transmission and reception, reducing the threshold for wireless applications and enabling one-to-one or one-to-many communication.
Data acquisition and upload
S15 communication component communication gateway
S15 is a small gateway device that can collect multiple communication protocols and upload data to cloud platforms or on-site monitoring systems. Its supporting SmartHMI tool supports configuring, monitoring, or debugging attached devices. It is mainly used to collect data of intelligent measurement and control, power quality, and Electrical safety products. The uplink communicates with the monitoring system through the Ethernet port, and is uploaded to the cloud platform through 2G, 4G, and NB-IoT wireless modes. The downlink achieves wired/wireless networking through RS485 or LoRa.
S20 communication component communication gateway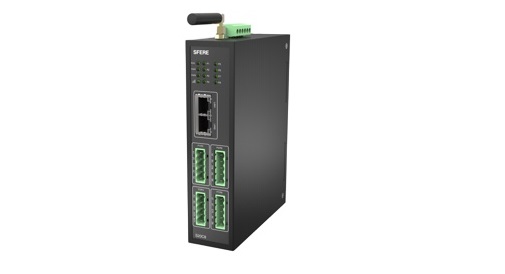 S20 is a universal communication management machine for the industrial control field, with multiple functions such as multi-channel data acquisition, conversion of multiple protocol protocols (ModbusRTU/TCP, IEC101/104, DLT645, MQTT...), simple numerical calculation, automatic logic control, data storage, event recording, offline caching, connecting to multiple platforms, and flexible WEB configuration.
About Elecnova/Sfere Electric
Elecnova / Sfere Electric a leading manufacturer and solution provider of Power quality analyzer / Energy analyzer / kWh energy meter / Multi circuit power monitoring system / EV charger metering / Digital power meter / Motor controller / Busway temperature sensor / Harmonic Filter / Power factor correction / Low Voltage power distribution panel / Cloud view Power monitoring system.

https://www.sfere-elec.net/products/Power-Quality-Monitoring-20.html